About Arts Touching Hearts, Inc.
Arts Touching Hearts, Inc. was founded by Evelyn Hinds. It is a 501c3 nonprofit organization that is committed to expressing the message of God through the dramatic arts, the art of storytelling, and writing. Evelyn Hinds' passion is to spread the Gospel by touching the hearts of this generation. She firmly believes that art elevates the soul and the human heart must be touched in order to be inspired to change and reach higher. Evelyn enthusiastically encourages her audiences to use their God-given creativity to touch the world!
Through Evelyn's drama as Corrie ten Boom Live she has plunged into the history of the Holocaust. Evelyn has studied extensively, listened to survivor's stories, and traveled to Germany and Poland on a Holocaust Remembrance tour. She has visited Yad Vashem in Jerusalem to further her education and to visit Corrie ten Boom's tree in the garden of the Righteous (gentiles.) What she has learned permeates the drama and her teaching. Evelyn is constantly seeking creative avenues to further the call to go unto all of the world.
Evelyn Hinds Biography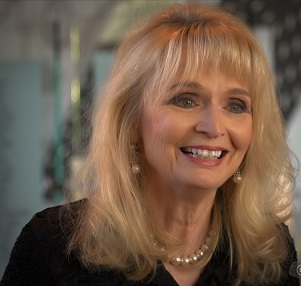 Evelyn Hinds believes she was inspired by art even before she was old enough to recognize it. It wasn't until she was a seventeen-year-old that she discovered that she loved to act on the stage. Evelyn followed her chosen path to become a high school English teacher and graduated with honors but life's circumstances propelled her onto different paths.
Throughout her life Evelyn was compelled to be always learning something new. Through her quest to find her purpose in life, she knew in her heart she was a teacher but searched for a creative way to teach that wasn't the traditional school classroom setting. She volunteered to be a docent at an art museum because she loved to learn and be inspired by the art and pass that enthusiasm for art and beauty on to others. While at the museum she was given the opportunity to tell the story of one of the museum's early art donors by using drama. As Evelyn says, "I discovered that I had a particular talent to portray old women!" The success of that opportunity lead her quickly to search for another opportunity to use her love for the stage at her church. The success of her first portrayal of her heroine, Corrie ten Boom, grew by word of mouth into a ministry. Now nearly twenty years later she continues her passion for evangelism through drama, storytelling, and writing.